How to hire a Virtual CFO for a UK-based business?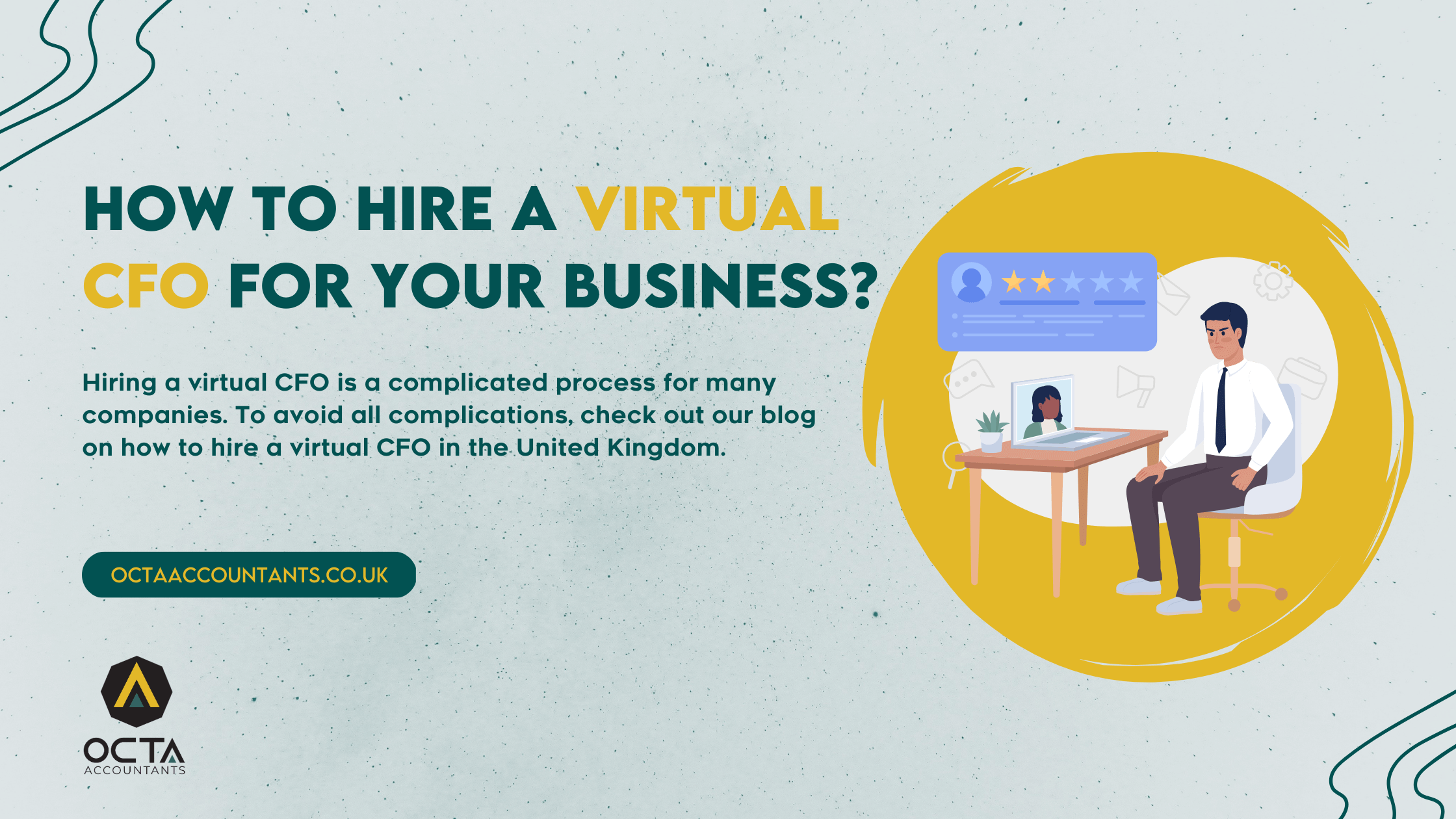 Do you want a professional to help you manage your cash flow, set budgets, or acquire capital? A virtual CFO can help you manage the complete financial cycle of your business. But we know many companies don't know how to hire a virtual CFO for their business, so they end up hiring an on-site CFO, which ends up as a more costly route.
Operating a business is complicated and challenging, especially in today's economic situation. As a company owner, you must know your finances and have a good financial plan. 
A virtual CFO (Chief Financial Officer) can assist with this. A virtual CFO can offer you the financial knowledge and direction that needs to run and expand your company effectively.
But how do you proceed with hiring a virtual CFO for your UK company? Hiring a virtual CFO for your UK company might be an effective approach to getting access to the skills of a financial adviser without hiring someone full-time.
Once a company has attained a certain stage of growth, it requires the services of a financial executive. This strong partnership will facilitate your company in handling phases of rapid progress and implementing systems to maintain it. However, you're probably not ready to commit to a full-time chief finance officer.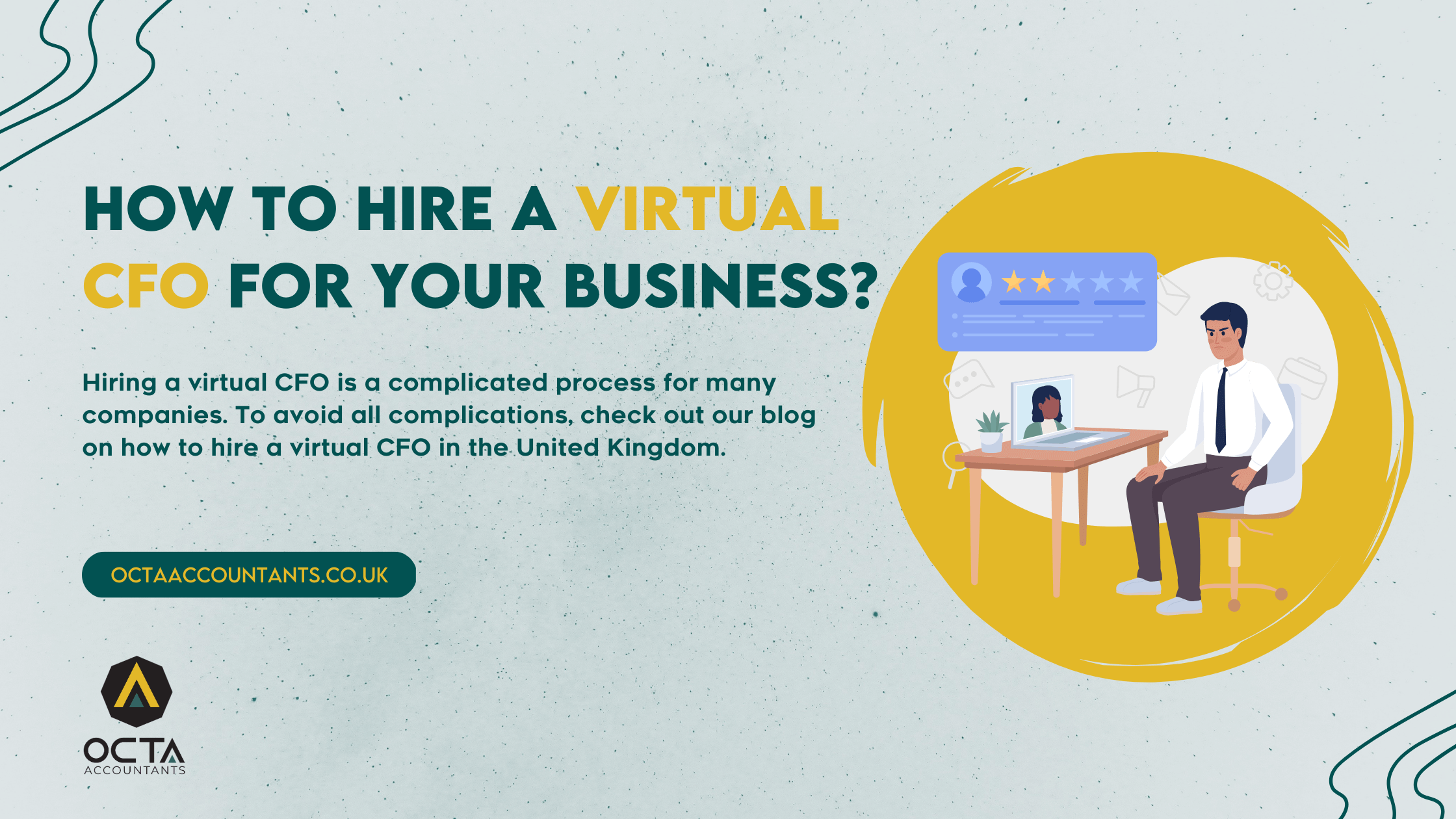 A virtual CFO provides all the skills and knowledge a traditional CFO can provide. The difference is that virtual CFOs work virtually and as a contract on a part-time or ad-hoc basis. Hiring a virtual CFO is a wise decision for companies of all sizes that desire strategic financial guidance and strategy but cannot afford a full-time in-house CFO. Before the extensive acceptance of virtual work and the accessibility, these companies usually went without professional guidance. They can now easily hire virtual CFOs for as much time and support as they necessitate.
Meanwhile, they can maintain an intense work schedule by dealing with various clients.
What particular financial areas do you require assistance with? Here are some methods to identify and hire a virtual CFO for your company:
How to hire a virtual CFO in the UK?
1) Determine your Company needs
The first step in hiring a virtual CFO is defining your company's requirements. You'll be able to identify the competencies and expertise you're searching for in a virtual CFO once you have a solid grasp of your company's demands. Begin by analyzing your company's financial requirements and objectives. What financial services do you require? Having a clear understanding of what you want will help you identify the best virtual CFO for your company.
2) Consider Virtual CFO Services
There are many companies and individuals in the UK who provide virtual CFO services, so do your analysis to identify the most suitable option for your company. Search for individuals or companies with professional experience, a track of accomplishments, and positive customer feedback. As there are multiple choices, it's essential to conduct research and discover a service that satisfies your needs.
Since the expense of virtual CFO services varies, it is essential to think about your budget when hiring a virtual CFO. While you don't want to hire a virtual CFO primarily on price, you do not want to invest too much for services you don't demand. Look for a virtual CFO capable of offering the financial services you desire at a fair price.
4) Check the credibility of the service provider:
Check their credibility once you've determined some suitable virtual CFO services. Ask for their work with previous clients and how they have helped them sustain their businesses.
Also Read: What is the role of a virtual CFO?
5) Examine customer feedback:
Read reviews from other companies who've utilized the service to get awareness about people's thoughts. It will assist you in determining whether the business is dependable and generates high-quality work.
Set up a meeting with the virtual CFO to review your necessities and how they can help you. This will allow you to address any queries you may have and get an idea if they're a suitable match for your company.
7) Interview with Potential Virtual CFOs
Once you've narrowed down your list of eligible virtual CFOs, it's time to set up interviews. Inquire about their experience, qualifications, and expertise during the interviewing process. Check to see if they have working experience with companies comparable to yours and are able to offer specific financial services you desire.
8) Negotiate fees and conditions:
Before hiring a virtual CFO, assure to negotiate fees and conditions that are suitable to your company. Ensure you recognise the billing procedure and any additional fees which may arise.
9) Evaluate Terms and agreements:
Check that you analyze the agreement's terms and conditions and you are satisfied with the services and fees mentioned in the contract.
Also Read: How to register a company in the UK?
10) Establish a Solid Working Relationship
Communication is vital, so stay in touch with your virtual CFO regularly so that they grasp your company's goals and financial requirements.
Outsource CFO Services in the London, UK!
Hire virtual CFOs in East London or in any part of the United Kingdom to manage your financial cycle. A virtual CFO creates sound financial strategies for your business to boost your business growth!
Why should you hire a virtual CFO? A few benefits
Virtual CFOs provide invaluable benefits that will impact future success in carrying out some financial duties that company owners do not have the time or core competencies. For example, you can anticipate:
Accountability

Cost reduction

Enhanced profitability

Guidance during journey

Diversely experienced
What should you look for in a virtual CFO?
Hiring a competent vCFO is essential. When evaluating candidates, take this into account:
Qualifications and certifications: The virtual CFO must have a finance or accounting degree and expertise. Request references from former clients to validate their previous work and discover further about their efficiency.
Expertise in your sector: While any CFO can provide basic financial knowledge, the ideal virtual CFO for your company would be educated about your particular sector.
Data protection: Virtual CFOs should have client security measures and protocols to secure their data and avoid misunderstanding and crime.
Effective and clear communication: Even the most experienced vCFO will not benefit your company well if they do not communicate immediately and effectively. To get the most out of your vCFO's expertise and knowledge, make sure you're on the same page regarding communication.
What Services Do Virtual CFOs Offer?
Budgeting and forecasting: Establishing a company budget and executing cost-cutting strategies. Furthermore, it also includes calculating the cash flow of the company so that the client can make sound financial choices.
Preparation of Board Meeting: The process of preparing for board sessions might involve giving financial analysis and notifying the board of the company's present financial performance.
Finance system and process implementation: Accounting software installation, bookkeeping, and payroll.
Manage interactions with third parties: It may include engaging with auditors, banks, and investors about the company's financial situation.
Financial Reporting: Balance sheets and financial records are an important part of financial reporting. Moreover, offer financial reports that provide information about the company's financial state. Make accurate and timely reporting of a company's cash flow, health, and performance.
Rules and compliance: Managing all local, state, and payroll taxes, rules, and regulations up to date and setting up and maintaining controls for a company's success and internal affairs.
Financial strategy: Creating a financial plan for the client's company and providing information to assist management in developing company strategies. It may include developing budgets, managing financial risks, and setting long-term financial objectives for a more successful company.
Major Signs it's time to hire a vCFO
A vCFO is a mandatory upgrade for any company, but it is crucial to make this hire ahead to predict requirements rather than in reflection to clear away financial problems. It is a simple choice to make if any of the following is true to the company it is certainly time to post a complete list:
1) Difficulty in managing finances
Starting or managing a company does not always imply that finances are your area of expertise. If the numbers are getting the best of you while you focus on other aspects of your company, it's time to hire help before the situation escalates.
2) Experience Rapid Growth
Several companies lose because they develop too soon and are unable to keep up. If your company is constantly growing, you'll need a virtual CFO to help handle the decisions that will undoubtedly occur because of that growth. 
3) Annual revenue exceeds $1 million
The essential details are when income reaches seven digits, financial planning, reporting, and organizing become more complicated.
4) Plan to sell your company shortly
Preparing your company for sale requires rigorous reporting, proper planning, and a complete change in strategy. A virtual CFO can assist you in handling these changes and make your company seem financially successful in drawing in a winning bid.
Also Read: How to value a business to sell?
Hire a Competent Virtual CFO with Octa Accountants in London, UK!
Are you looking for assistance with budgeting, forecasting, financial reporting, or tax planning? Do you want someone to offer strategic financial guidance?
Octa Accountants is an accounting and finance company in London, United Kingdom that offers a dedicated Virtual CFO for small businesses, startups, and SMEs with growing financial compliance requirements. Virtual CFOs are ideal for small and medium-sized businesses because they allow them to focus on growing their company while reducing expenses and time. 
Virtual CFOs are a cost-effective solution that can help businesses meet funding needs, manage financials, and create sustainable strategies.
Book a meeting with our team or request a free quote to uplift your financial strategy!
Octa Accountants is a one-stop accounting firm that offers a wide range of finance management services.
Do you have any questions? Feel free to reach out to us.