8 Benefits of Outsourcing Bookkeeping and Accounting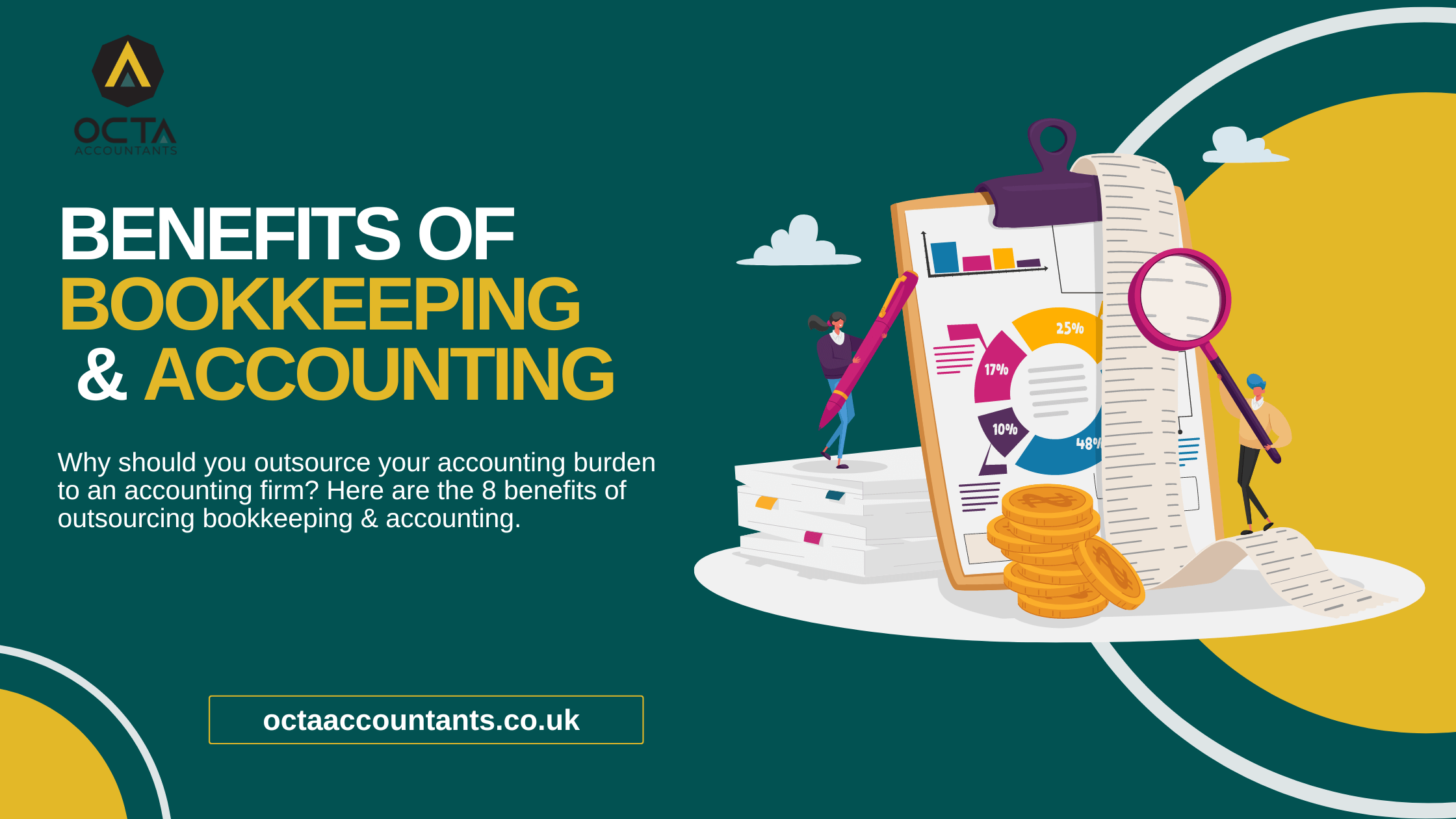 In today's world, businesses find it taxing to hire an accountant at an affordable rate who keeps a record of all financial operations and manages all bank operations. For this reason, businesses prefer to outsource bookkeeping and accounting services to a company that can manage all the tasks effectively.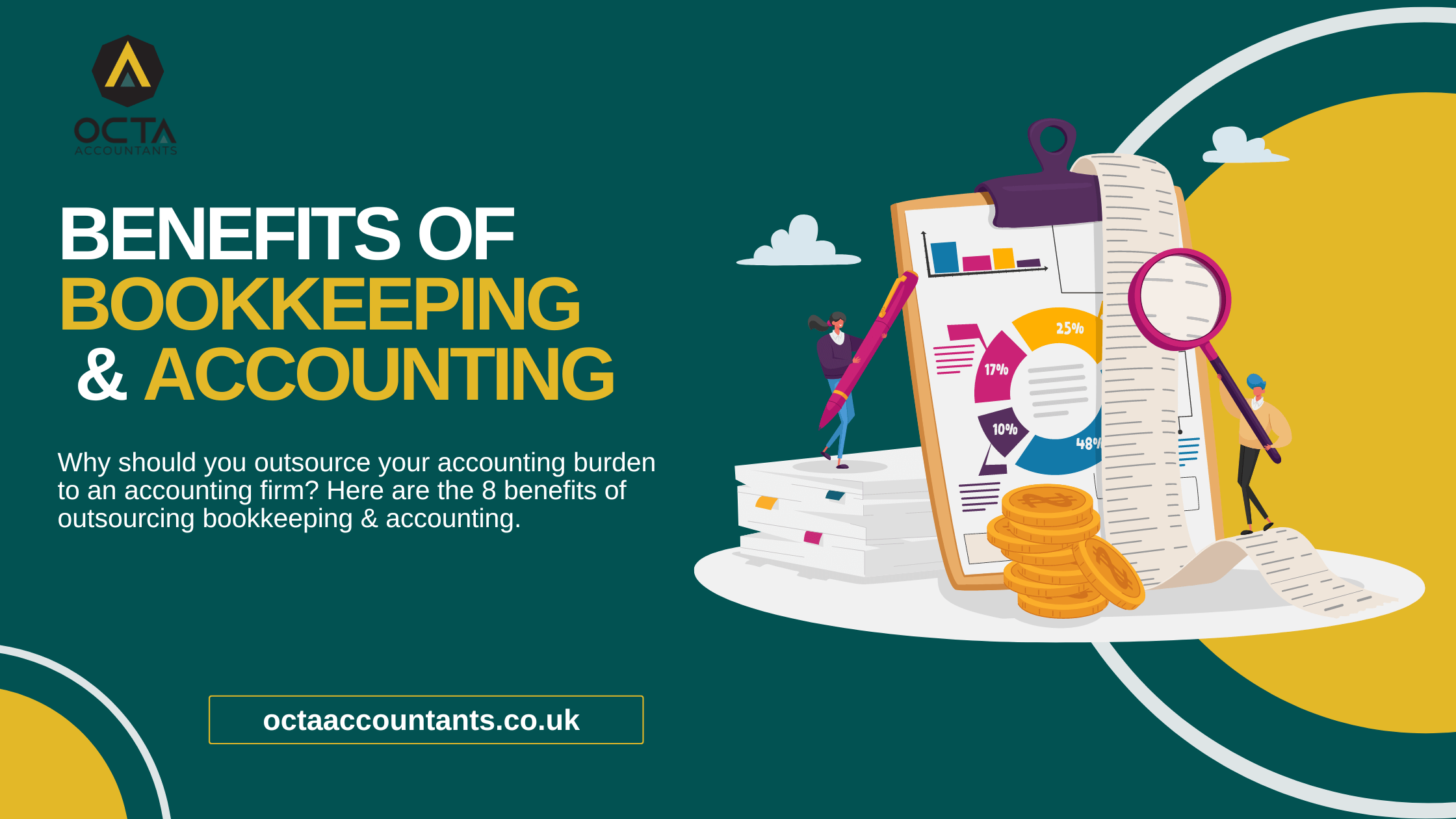 Although, it is preferred that such matters must be taken care of by the company itself, however, if it doesn't have the right skill set, it must not hesitate to ask for help from other sources. Many business owners do not recognize the difference between bookkeeping and accounting. As a result, it is important to understand the contrast before outsourcing services to a third party.
Bookkeeping Duties:
Keeping financial records

Fill out a journal with credits and debits.

Financial statement preparation

Processing of payroll
Accounting Duties:
Evaluate and analyse financial statements

Handle entries

Conduct audits

Tax return filing
If you plan to outsource bookkeeping or accounting, it is best to get both services. The reason is an expert finance officer will manage your bookkeeping and accounting with no mess-ups.
Here are some of the benefits of outsourcing accounting and bookkeeping: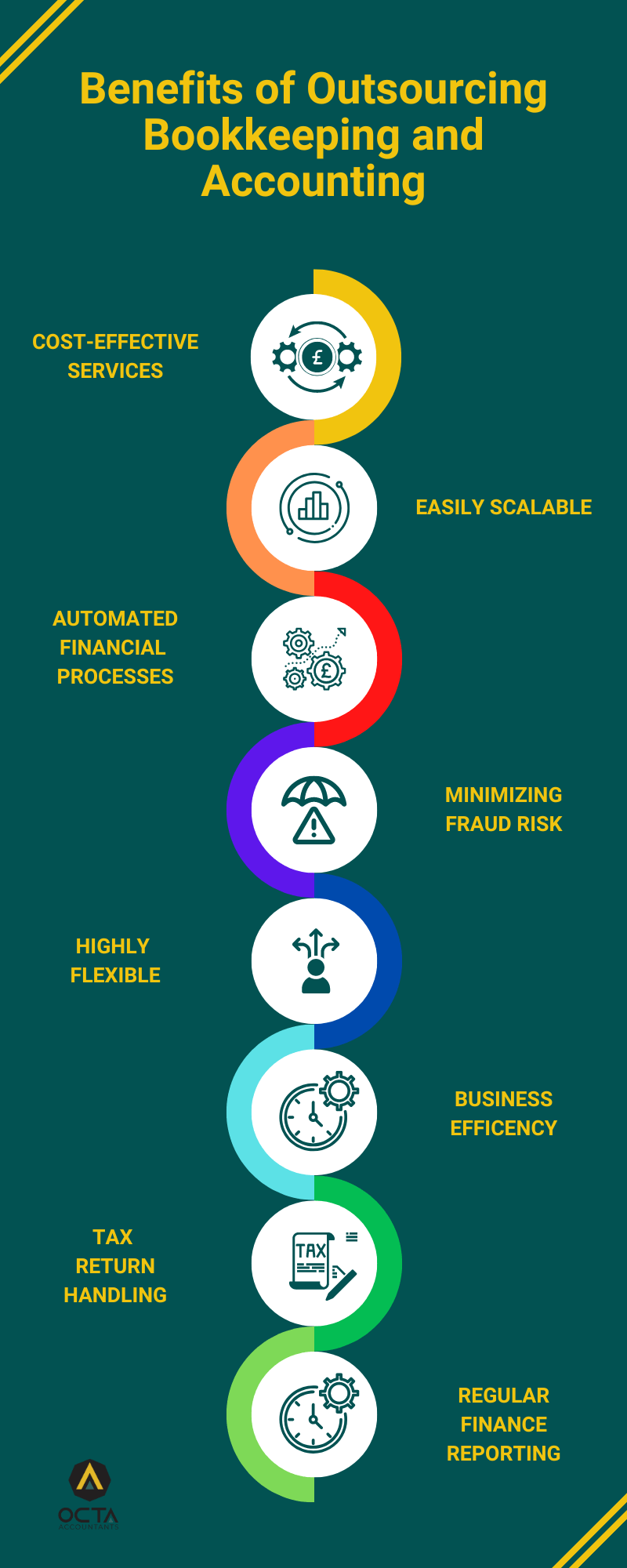 1. Accounting Services Are Cost-Effective
One of the most significant benefits of outsourcing accounting sources is that it reduces expenses without compromising on the quality of the output produced. Companies that are specialised in providing these services complete their tasks at lower costs solidly due to the reason that their labour costs are quite low.
Apart from this, the company saves a lot of money and time in recruiting an accountant and payment of salaries. One thing which is often neglected is that saving time also leads to greater productivity and efficiency. It must be considered as important as reducing costs in a business.
Another advantage of outsourcing bookkeeping and accounting is that it scales your services to a large extent. This means that the company's system can efficiently respond to spontaneous changes in demand either by increasing resources or removing them. It is especially helpful when the service load is high during peak season.
3. Automates Financial Processes
Businesses use automation techniques in order to save time coupled with reducing errors to a bare minimum. Accounting service providers are highly equipped with using these software e.g. Microsoft Dynamics, Xero etc. Accountants utilise advanced softwares to automate your financial processes. It is beneficial in providing quick updates and reduces the chances of fraud in the business.
Also Read: How to register for VAT in the UK?
4. Minimises the Risk of Fraud
While organisations can't eliminate fraud, highly qualified and experienced accounting professionals detect irregularities more than those focused on raising sales and expanding the business. When you have an in-house accounting department, internal fraud is inevitable.
Accounting outsourcing firms reduce the risk of security flaws, data theft, or other concerns. They have security precautions to protect your data. Despite having full access to your financial stack, loan statements and obligations, the outsourcing accounting firm cannot do anything that would harm its reputation.
Accounting outsourcing enables organisations to adjust the solution to their requirements. Every department's workforce size expands as your company grows, especially accounting. Your receivables and payables reach levels you've never seen before. 
For instance, if your accounting and bookkeeping activities exceed the number of tasks for a single person, you can demand an additional workforce without any complex recruitment process.
If you intend to grow and have new plans, it's time to utilise outsourced accounting and bookkeeping services. You can build a strong pathway for your company's financial success by allowing your staff to do their best and outsourcing the rest. Accounting services enables your CFO to make excellent financial decisions, prepare future predictions and expenditures, and manage risks for the benefit of your company.  

7. Helps With Tax Returns Handling
Taxation is a complex process to manage by yourself. A well-organised bookkeeping management system provides a strong foundation for a successful tax season without stress. 
Outsourced bookkeepers assist in avoiding the hustle of completing bookkeeping services before tax season and enhance the potential of your bookkeeping services. Dedicated accountants and bookkeepers manage all the taxation, e.g., corporation and VAT, etc. Skilled experts examine the tax deductions and ensure you pay or reclaim the right tax. Moreover, file tax returns in a timely, efficient, and accurate manner.
8. Provide Finance Reporting
By using bookkeeping services, you may access accounting reports that provide more detailed information about your company, evaluate your cash flow history, balance sheet, profits and losses. Expert accountants provide updated financial reports to help you make sound decisions. Bookkeepers use a defined procedure to record information or data that is easily accessible.
Quantitative insights like these become increasingly valuable as your company grows. Furthermore, the recorded information is easy to share with partners, employees, stakeholders, and financial advisors.
Also Read: Who has to do a self-assessment tax return?
Let Octa Accountants Handle Your Bookkeeping & Accounting!
To avail of all the benefits stated above, an business must outsource bookkeeping & accounting to the best outsourcing firm for their requirements, cost-effectiveness, flexibility in terms of contracts or scaling the range of services. Octa Accountants provides a comprehensive range of outsourced bookkeeping, accounting, and consultancy services while handling the entire process. Octa Accountants is a reliable accounting service company where you can outsource accounting or bookkeeping services anywhere in the United Kingdom.
Do you wish to take your company's accounting to a whole new level? Octa Accountants is ready to serve your business!  To learn more about how we can help your business, check our accounting services and book a meeting to discuss your needs and get a fully personalised plan. 
Hire accountants in East London or anywhere in the UK to scale up your business!
Octa Accountants is a one-stop accounting firm that offers a wide range of finance management services.
Do you have any questions? Feel free to reach out to us.