What Is The Role of a Virtual CFO?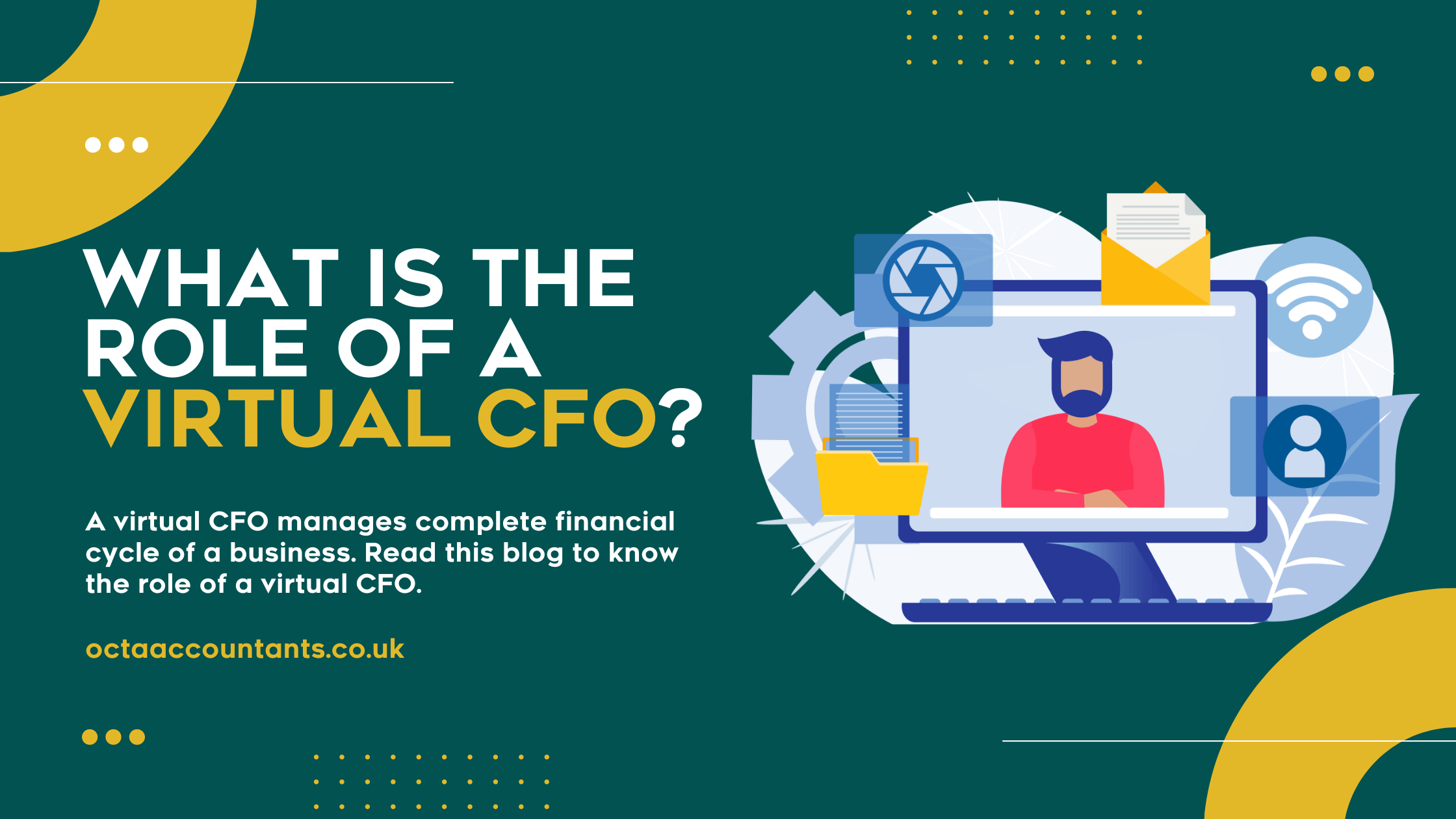 A chief financial officer is a highly qualified professional responsible for the financial performance of the company and provides assistance with financial concerns. The role of a virtual CFO is to monitor the company's accounting activities remotely, including the supervision of finance and accounting professionals that conduct management responsibilities.
A virtual CFO performs various finance-related tasks to boost a company's financial health. They revolve around budgeting, managerial reporting tasks, and impacting operational decision-making with financial data. Due to the latest communication technologies and remote working trends, hiring a virtual CFO is the most cost-effective solution for many startups and SMEs. 
The core duties of virtual and traditional CFOs are the same. In easier terms, if you hire a virtual CFO, you outsource the position of the head of the finance department.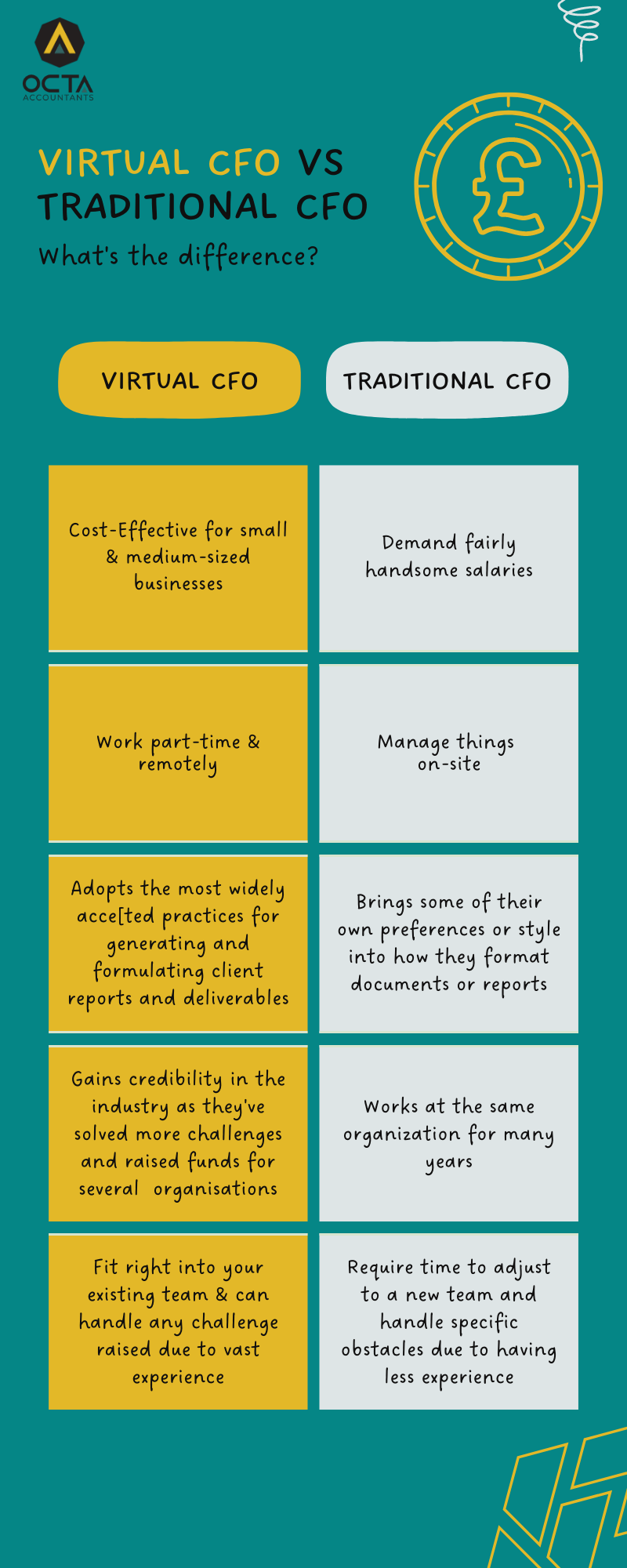 Virtual CFO Responsibilities
Virtual CFOs handle different standard accounting and finance-related responsibilities that your organisation may not have the expertise. They can help with a mixture of the following:
i) Bookkeeping And Risk Advisory
An expert virtual CFO handles the books and accounts digitally to maintain company records up to date. Additionally, provides finance consultancy and financial risk management by doing a cost-benefit analysis to full contingency planning.
Some company owners recognise the significance of having sufficient internal controls that promote the best accounting practices while adequately minimising risk.
The Virtual CFO will perform monthly financial health checks and deliver regular reports. Financial reports, such as balance sheets and cash flow statements, enable internal leaders and external stakeholders to evaluate the financial state of the business, allowing for better management and planning for the next fiscal year. A virtual CFO supervises the accounting team and analyses the entire cash flow system to ensure that profit figures reflect the company's performance.
iii) Budgeting And Forecasting
You will receive realistic financial predictions to help you plan for the future. It includes financial forecasting and modelling based on the company's past performance but also on internal and external factors that may affect sales. Internal factors comprise sales trends, labour and HR expenses, raw material costs etc., whereas external data inputs include opportunity costs for capital, changes in market requirements, and technological advancement.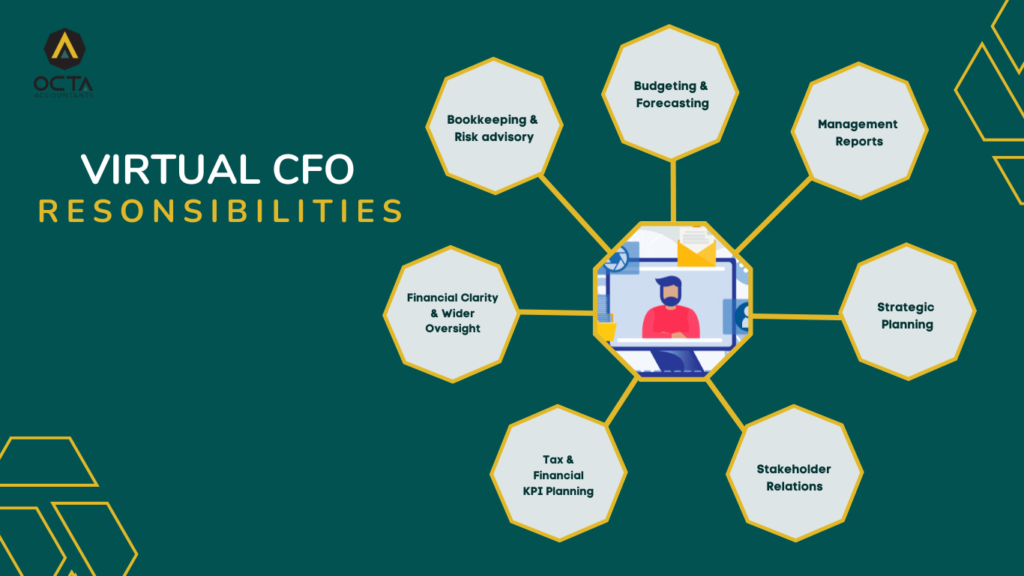 iv) Tax and Financial KPI Planning
Professional virtual CFO optimises the tax strategy and meets deadlines to keep the company under legal authority. Further, it defines and measures the appropriate key performance indicators (KPIs) for your company's financial success. 
v) Financial Strategic Planning
Assist with strategic planning to apply the finest practices, plans, and systems to maximise positive outcomes. Further, help you navigate those high seasons and provide concrete business ideas, so you know how to manage cash flows and sales. They offer business owners the expertise required to establish robust internal controls that enable them to manage better resources and boost operational efficiency.

vi) Financial Transparency And Broader Oversight
As your company grows, it becomes more complicated, and your responsibilities grow by the day. Gone are the times when you could work peacefully in your basement. The more resources you invest, the more difficult it is to handle your finances. A Virtual CFO utilizes data in your company to create an accurate picture of your financial condition. CFOs in larger organisations are expected to establish respectful relations with executives of diverse functions to develop a vision and understanding of the company's performance, obstacles, and prospects. In an SME, a CFO is predicted to supervise functional teams like human resources, information technology, payroll, etc.
vii) Stakeholder Relations
Communicates the company's financial condition carefully to existing and future shareholders to build strong relationships and evaluate the potential impact of new service offerings or business initiatives.
Also Read: Why hiring a company secretary is important?
Outsourced CFOs help you with fundraising, business plans, cash flow management, cost management, tax planning, and many other tasks. Here are the basic benefits of a virtual CFO:
More Cost-effective solution than a traditional CFO

You get an expert with strong accounting and finance background

Implements best financial practices for the company

Helps with outlining and executing the business strategy

Helps with meeting the funding requirements of a company
CFOs guide the finance and accounting team and have a broad view of an organization's financial health, allowing the CEO as well as peers to focus on their own goals and operational issues. Hiring a Virtual CFO to help manage your business's financial requirements comes with multiple benefits as in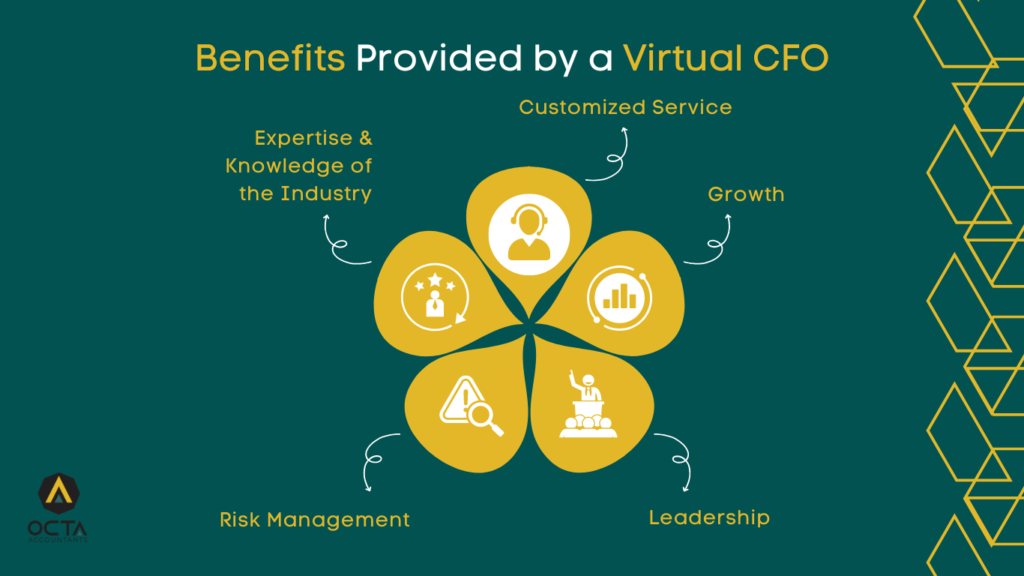 Provides Personalized Service
Every industry has unique financial requirements. The financial needs of an eCommerce business, for instance, differ from those of a construction company or professional services firm. Furthermore, your company's financial requirements will vary based on where it is in its lifecycle: beginning, growing or established. 
A Virtual CFO can customise their services to match the needs of your industry and business lifecycle, and such services are free of charge. Moreover, their services are linked to your company's growth objective.
Helps Boost Business Growth
Virtual CFO services might assist you in attaining various growth milestones. While most Virtual CFOs work on a contractual basis, they can grow with your company and shift from an extension of your team to an internal member. A CFO assists in the identification of investment opportunities and the wise use of capital.
Offers Industry-Level Expertise
Most Virtual CFOs specialize in one industry and work with clients from a wide range of sectors. It allows them to aggregate experience from several sources, which is beneficial to your business. Whatever your financial position, you can be certain that your Virtual CFO has the appropriate knowledge and skills.
Leadership skills allow them to put together a successful finance and accounting team. CFOs understand whenever a firm needs to hire someone like a tax professional and will clarify duties and responsibilities.
In terms of regulatory compliance, the risks are associated with excessive debt and inadequate cash, weak supply chains, improperly hired contractors, and poorly managed technology. While hiring an experienced CFO is an investment, the payback can be substantial.
Also Read: How to register a company in the UK?
What qualities to look for in a Virtual CFO?
Here are some characteristics to look for in a virtual CFO:
Proven knowledge of the industry and expertise in financial management.

Relevant financial managerial skills in several sectors

Ability to manage your financial resources efficiently

Connection with professional service providers such as tax advisors, corporate finance, lawyers etc.

Ability to provide financial guidance on diverse company requirements
Top Four Duties of Virtual CFOs
CFOs face challenges, as they benefit from technological advances and the ability to evaluate based on massive amounts of data. These are some of the challenges that they deal with:
1) Juggling multiple roles:
A growing regulatory environment, developing technology, and massive market changes compress CFOs from one side, while trouble finding and maintaining the appropriate financial expertise puts more pressure from a time-management perspective.
CFOs must handle incoming revenues while monitoring outgoing payments and both immediate and long-term liabilities. All companies require a runway, but sustaining a steady cash flow is a difficult task to achieve 
3) Creating accurate financial scenarios:
CFOs can plan for positive and negative outcomes by guiding the extensive analysis of the potential consequences of different economic conditions on the company's revenues 
4) Timely completion of accurate reports:
Timely reporting has always been essential, but in today's fast-paced global corporate world, access to information is necessary for making well-informed strategic decisions and mitigating risks. Additionally, the finance team's reports, such as profit and loss statements, can assist or break efforts to acquire financing.
Hire a Virtual CFO from Octa Accountants!
Outsource CFO services to Octa Accountants to take your business to new heights. Our virtual CFOs are available at the fraction of the cost of a full-time on-site CFO. If you have a vague understanding of your company's financial picture, working with a skilled Virtual CFO can make a tremendous difference.
Take the initiative and book a meeting with our team or request a free quote to uplift your financial strategy.
Octa Accountants is a one-stop accounting firm that offers a wide range of finance management services.
Do you have any questions? Feel free to reach out to us.