Why your business needs financial consultancy to succeed in the UK?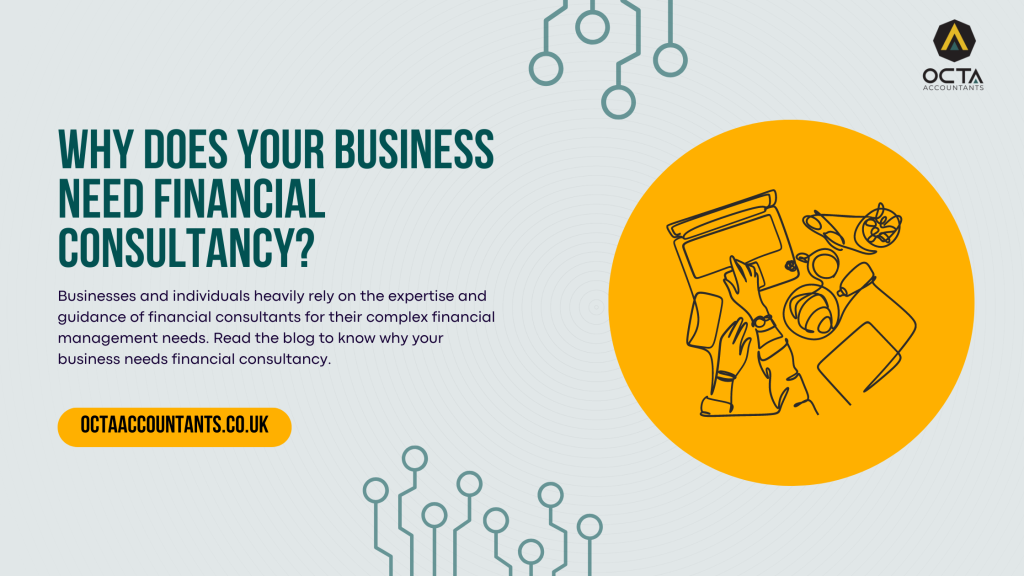 Businesses and individuals heavily rely on the expertise and guidance of financial consultants for their complex financial management needs. Financial consultants play a crucial role in offering insightful advice and strategic planning to their clients. In this blog article, we will explore the importance of financial consultancy and how it contributes to the success of businesses and individuals.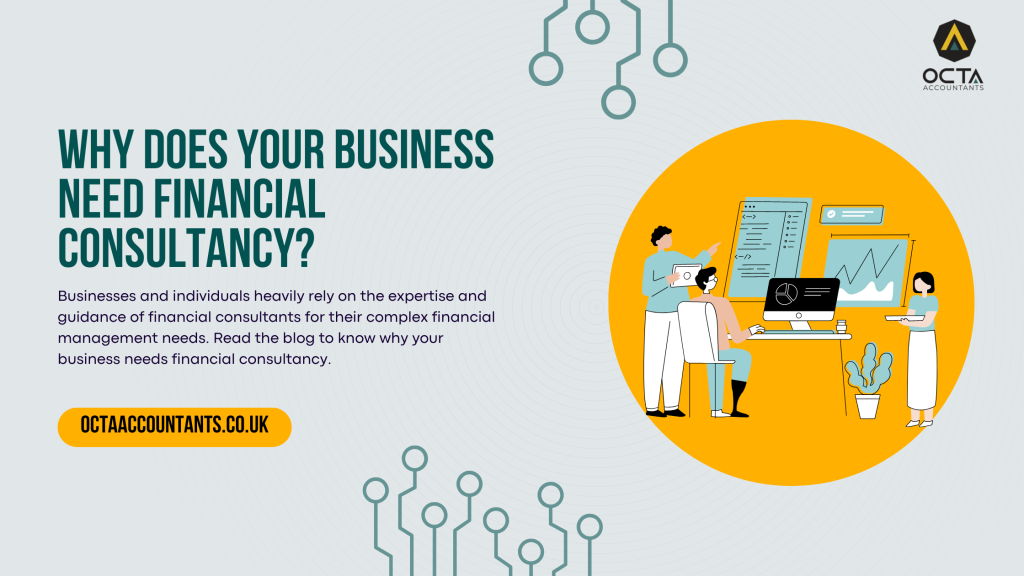 Understanding the Complex Financial Landscape:
Financial consultants, including accountants specialising in personal taxes, possess a comprehensive understanding of financial concepts, regulations, and market trends. They analyse financial data, identify patterns, and interpret intricate financial information to provide reliable and informative recommendations to their clients. With their expertise, financial consultants can evaluate the financial health of organisations and individuals, identify problem areas, and develop growth strategies based on their experience and knowledge.
1. Strategic Financial Planning:
One of the core aspects of financial consultancy is strategic financial planning. Accountants specialising in personal taxes assist clients in setting realistic financial goals, creating budgets, and formulating long-term financial strategies. By considering variables such as cash flow, risk tolerance, market conditions, and personal tax requirements, financial consultants help clients make informed decisions aligned with their objectives. Through strategic planning, clients are equipped with the necessary tools to navigate their financial journeys successfully and capitalise on opportunities.
2. Tax Optimization and Compliance:
Navigating the intricate world of taxes can be challenging for many businesses and individuals. Financial consultants play a vital role in maximising tax planning techniques while ensuring compliance with tax laws and regulations. They stay updated on ever-changing tax laws, identify eligible credits and deductions, and help clients reduce their tax obligations. Financial consultants in the UK take a proactive approach to tax preparation, supporting their clients' financial success and helping them avoid costly errors.
3. Financial Analysis and Performance Evaluation:
Financial consultants possess strong analytical skills to analyse finances and evaluate performance. They examine the financial health and performance of their clients' businesses through comprehensive financial statements, ratio analysis, and trend evaluation. By identifying inefficiencies, strengths, and weaknesses, financial consultants can recommend remedial measures to clients. This data-driven decision-making enables clients to streamline processes, make informed choices, and achieve sustainable growth.
Effective risk management is a critical component of financial consultancy, and financial consultants play a pivotal role in this area. They identify vulnerabilities and potential hazards, develop risk mitigation plans, and implement internal controls. Financial consultants ensure that their clients have robust risk management structures in place for asset protection, loss mitigation, and regulatory compliance. By skillfully managing risks, financial consultants contribute to the security and long-term sustainability of their clients' financial endeavours.
5. Business Advisory Services:
Financial consultants extend their expertise beyond traditional accounting responsibilities to provide essential business advisory services. They act as trusted consultants, offering guidance on business growth, investment opportunities, and money management. Financial consultants work closely with clients to determine key performance metrics, track progress, and make necessary adjustments. Their unbiased advice and industry knowledge empower clients to make informed decisions aligned with their broader business objectives.
6. Embracing the Benefits of Virtual Financial Consultancy
Nowadays, many businesses are turning to virtual financial consultancy, including virtual accountants specialising in personal taxes, due to its numerous advantages. Virtual financial consultancy offers cost-effectiveness by eliminating expenses such as salaries, benefits, and office space. It provides flexibility in scaling services according to business needs and grants access to a team of experienced professionals, including accountants specialising in personal taxes, who stay updated with the latest expertise. Virtual financial consultancy saves time by outsourcing tasks, leverages advanced technology for streamlined processes and real-time reporting, prioritises data security, reduces errors, and enhances accuracy in financial management. However, the suitability of virtual financial consultancy, including accountants specialising in personal taxes, depends on individual business needs and requires careful evaluation of service providers, considering their expertise in personal tax matters, to find the perfect fit.
Top 5 Virtual Financial Accounting Services
Offering tailored packages for various entities, Accounting Wise provides online accountancy services throughout the UK. Their fixed monthly fee includes a dedicated online accountant, assistance with all returns and filing requirements, unlimited help and advice, and access to leading cloud accounting software for efficient and streamlined processes.
With a focus on real-time bookkeeping and a tech-driven approach, Octa Accountants provides affordable and bespoke services. They prioritise client satisfaction and offer a free meeting to discuss individual needs. Their wide range of services includes self-assessment and other tax-related support.
Church offers instant help from experts and an easy-to-use platform that gives clients full control. With affordable prices and services catering to both small businesses and limited companies, Church aims to meet the diverse needs of their clients.
Taxevo provides bookkeeping software, comprehensive accounts and tax services, and a fixed monthly fee structure. They also offer expert advice on tax and accounting matters to ensure compliance and optimise financial management.
Paro connects businesses with the top 2% of pre-vetted industry professionals, including experts from leading firms and Fortune 500 companies. Their proprietary AI matching technology quickly identifies the exact experts needed and helps businesses navigate current and future financial challenges.
To make an informed decision, it is crucial to thoroughly research and evaluate specific virtual accounting service providers, considering their pros and cons, and align them with your personal requirements.
If you want to need financial consultancy for your business in London, Manchester, or Birmingham; consider Octa Accountants for enhancing your business growth.
Octa Accountants is a one-stop accounting firm that offers a wide range of finance management services.
Do you have any questions? Feel free to reach out to us.